If you've been on social media in the past five years, aesthetically, it's clear—the lips have it. In the past, lip injections were often an undiscussed augmentation. (Then again, most aesthetic alterations were hush-hush until the online beauty renaissance.) Now, there's over 1.6M hashtags on Instagram with tagged photos of lip injections and lip fillers, and Google searches for "lip injections near me" have continued to increase since 2014. People discuss their injectors openly. In short: filler provides major lip service for the non-invasive aesthetics industry.
From injecting filler directly in the lips to plump, to adding filler under the bottom lip to make what you already have look more pronounced, there's several options out there for increasing your lip real estate, including tattooing. It's not a new service by any means—permanent makeup has been around for decades—but gone are the days of the stark, fade-to-blue lip liner tattoos. Meet lip blushing, the tattoo that not only color corrects but enhances the shape and size of your lips, too.
What is Lip Blushing?
"Lip blushing is a form of semi-permanent makeup. Essentially, it is a cosmetic tattoo of the lips that enhances the beauty of the natural lip color, improving the shape of the lips, giving definition and the illusion of fullness," said Christina Son, owner of Sugarin Studio in Los Angeles. "This treatment delivers very natural results, once healed. Filler is great for creating volume in your lips, but lip blush delivers a more natural look and give the illusion of fuller lips."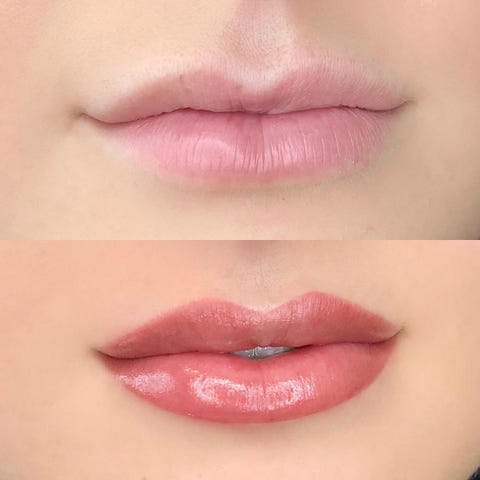 Here's how it works: A tiny mechanized needle deposits pigment into the lips, which builds layers of color. Son explained that it can be a corrective service to help even out the tone of the lips, but it can also help with asymmetry. The service can cost anywhere between $500-$1500 per appointment, depending on where you live.
Unlike traditional permanent cosmetic tattoos, lip blushing is an evolved service that's meant to provide natural looking, long-lasting results. Christopher Drummond, licensed aesthetician and cosmetic tattoo master at PFRANKMD Skin Salon in New York, who has been offering permanent makeup services for the past seven years, has seen the evolution first-hand.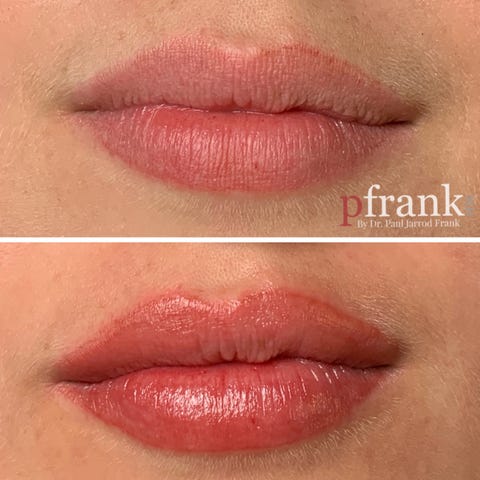 "Traditional permanent makeup uses a strong machine, synthetic pigments, and is embedded deep in the dermis. The permanent makeup of today is very different—we use organic pigments and modern, digital tools," he said. "The results are much more natural looking."
"Nowadays, the industry has developed great new techniques, like gentler machines and advanced semi-permanent makeup pigments," mimicked Son. "I use high quality vegan line pigments. In the past, traditional carbon-based tattoo ink produced harsh results that would age to an unappealing color."
https://www.elle.com/beauty/makeup-skin-care/a28806110/lip-blushing/