Galaxy hair color is a new trend in hair coloring that came immediately after pastel hair. Girls and boys post pictures of their colorful hair next to photos of space, the starry sky, and the northern lights to show how accurately they were able to convey the color of a natural phenomenon or a galaxy in their hair.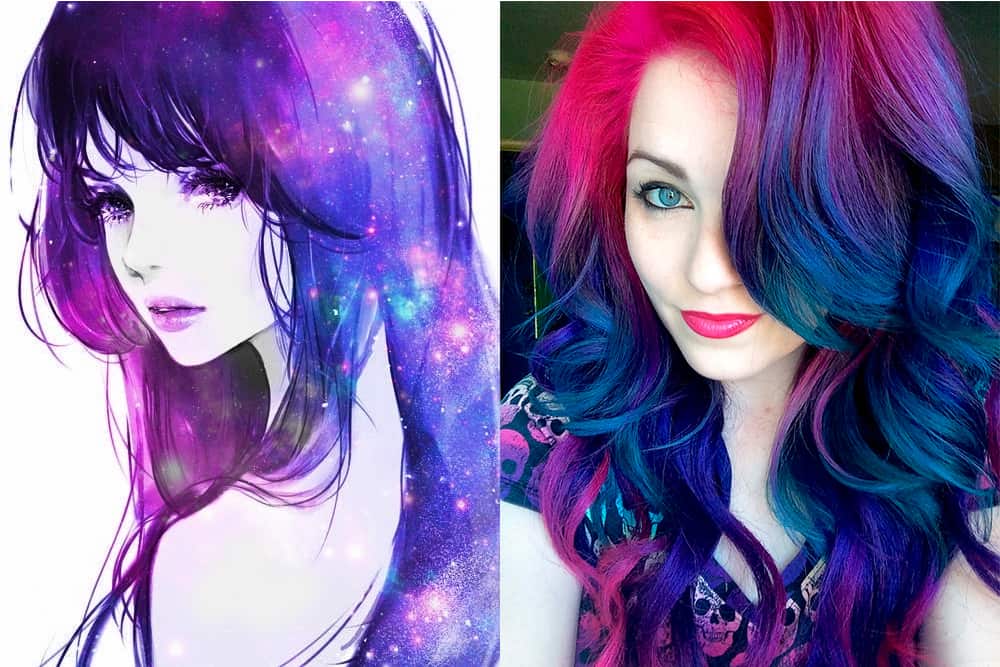 Exciting Galaxy Hair Color Ideas
True, to maintain such unusual hair color, fashionable guys have to visit a beauty salon every week to tint the faded color and give their hair a mirror shine.
The sky never ceases to amaze any of us. We can't help but be delighted when we gaze at the beautiful warm colors of sunrise or sunset or gaze into the starry night sky.
It would be an understatement to say that we are totally obsessed with space. It is not surprising that the comic theme has found a response in art and fashion.
From pantyhose, dresses, backpacks, and caps with galaxy prints to paintings and retouched photos with galaxy overlays. But some people are one step ahead by combining art and fashion.
They dyed their hair a cosmic hair color inspired by planets, stars, galaxies, and nebulae in space. These 20 cosmic images will delight you.
Galaxy Purple Hair
A delightful image, isn't it? Space knots and galaxy haircuts go hand in hand and this is the best combination of the two styles.
If you have blonde hair, purple roots will be the best foundation for your cosmic look.
Purple Flash
Another option for those who like warm colors. The red tones of this image make it look like a nebula in a flash state.
The hairstylist adds deep purple tones to the hair roots to create extra depth.
Purple Ombre
This purple style includes subtle ombre galaxy hair, ranging from deep purple to deep purple. With this simple yet flamboyant style, you will surely have a dizzying effect.
Purple & Red
In a huge variety of purple and red combinations, this particular style will create the cosmic effect that you crave so much.
The deep purple base is accentuated with light red strands to create a dimensional, unique style that is simple and dynamic at the same time.
Blue Galaxy Hair
The blue-based galaxy style is at its peak. This style is based on blue shades with smooth transitions to lighter blues and purples.
This gorgeous look is perfect for girls with straight or slightly curly hair. It will also add volume to your hair.
Blue Orion
This beautiful combination of galaxy blue hair with purple tones will remind you of the night sky on a cold winter day. The dark roots will create a beautiful shadow effect that reinforces the space theme.
The artist meticulously added a few purple-pink strands in the lower layers of the hairstyle to achieve today's trendy color combination.
cool-haircuts.com/hair-color/galaxy-hair/