Red hair color is a very practical way to grab the attention of others, show your individuality, making your image extraordinary and faultless. Sometimes you want to add a bright, memorable touch to a series of gray everyday life. One of these methods is to dye your hair red. A great idea for a shocking person with an explosive temperament!
The palette of glowing shades is so varying allowing everyone to have the opportunity to opt for an ideal solution for them that suits their facial features, skin tone, and color of eyes.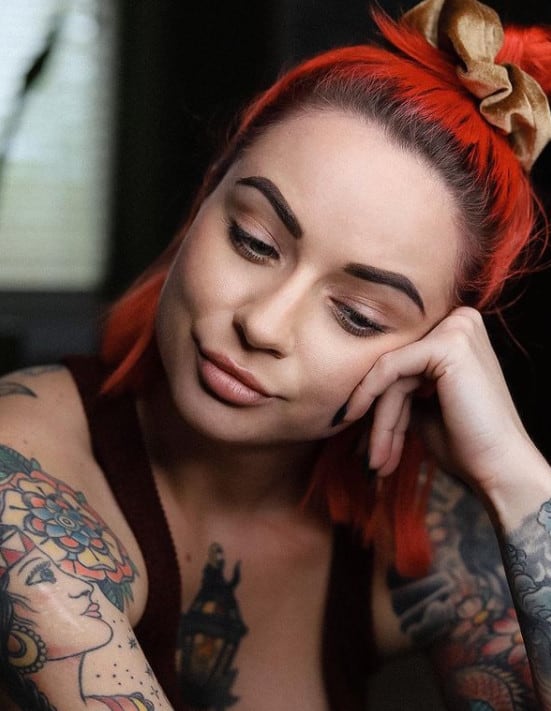 For a harmonious, stylish look, it is essential to be as conscious as possible when opting for a new tone. You should follow fashion trends and recommendations from stylists.
You should take into account that such a transformation requires considering some changes in your wardrobe, and possibly some new makeup techniques.
Seductively bright, unique red remains fashionable and in demand. Find out the best options with this hair color following our exclusive selection of shades and color features presented in the article.
Red Hair Color Features
Red hair color suggests vast opportunities for ladies to alter their image. Its color palette involves nearly 100 names of shades: from the most delicate, sensitive pink to the tones of scorched sienna, calm terracotta to mysterious burgundy.
It should also be pointed out that the scorching image does not stand doubt or indecision.
It looks absolutely harmonious only on brave and self-confident ladies who don't avoid taking experiments and not fearful of sharp turns of fate.
For those who tend to watch the latest fashion trends, stylists recommend avoiding full hair coloring, limiting themselves to dyeing using the balayage, ombre technique, or highlighting strands.
Bright flames, smooth or abrupt transitions from this glowing hue to the main hair color look so voguish.
Moreover, such options do not damage the hair much and focus on the advantages of appearance, correct facial features.
The Pros:
there is a big selection of shades and variations of image renewal, so, you should have no doubt about the ideal transformation;
red is universal – it suits both young ladies and more mature women, both blondes and brunettes;
this shade looks really sophisticated;
the color fits easily, so those who prefer home coloring will not have any difficulties with it;
even in heavy weather, you will look bright, and courageous, capturing people's attention;
for changing the image, you can use henna together with staining. This helps to strengthen your hair and protect them from the ultraviolet rays of the sun;
This shade is perfectly suitable for any length of hair and type of haircut: both on short hair, long or medium, it looks interesting and expressive in its own way.
The Cons:
it is not suitable for people who have sensitive skin tending to blush, have acne, skin irritation on the face – as red will only accentuate these flaws;
this shade is quickly washed out, so it is necessary to update it more often;
a new image with red suggests a revision of the wardrobe; you have to use proper makeup for red hair;
You should be ready for more and more attention – you will have to look perfect all the time.
a poor quality dye can leave stains on your clothes;
Important point! In general, dyeing your hair in bright hues requires initial bleaching of dark hair and coloring in red for blondes. It is an ideal way to acquire a balanced, saturated shade along the full length of your hair.
Mahogany
This shade is not too flashy, but at the same time makes its mistress a true aristocrat. Moreover, the color perfectly hides gray hairs, and wrinkles on its background are not striking.
Keep in mind that the tone can have brown and red tints. It is up to you to decide which of these semitones will be prevailing.
cool-haircuts.com/hair-color/red/