Everything should be well-defined without overdoing anything. Be cautious with eyebrows and a face tone because color dye draws attention to imperfections. As for the skin tone, yellow is not suitable only for girls with an olive undertone – it immediately becomes even greener.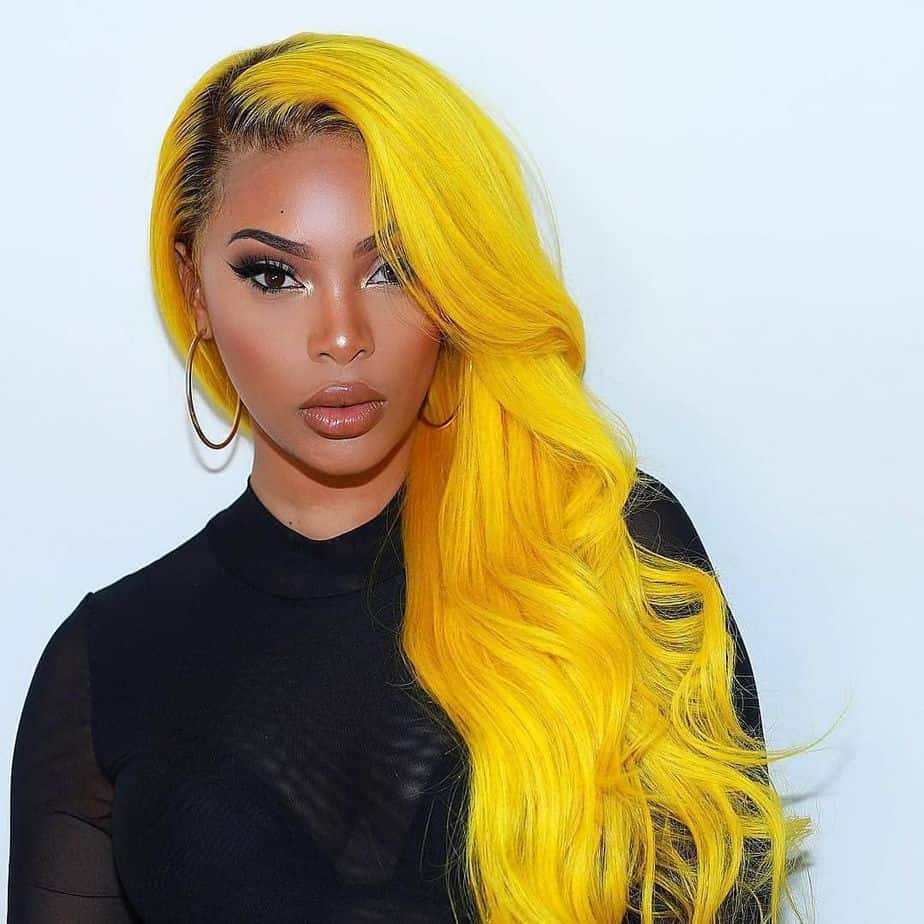 Orange & Yellow
Yellow hair requires a rather contrasting appearance. Whereas a low-contrast against a background of such brightness will simply be lost. In this sense, orange and yellow hair look extremely capturing.
Makeup is always necessary, otherwise, the pale face will simply be lost against the background of bright hair.
Yellow Ombre
Going for entirely light yellow hair is the choice of the very daring.
To prevent the hairstyle from looking like a wig, ask the master to leave the roots natural, making an even and smooth transition to a bright color, otherwise, the hairstyle will look messy.
But most interesting of all, yellow looks dosed: at the ends or in separate strands. In this case, its base can be black, almost white, or light brown – the contrast of a natural and flashy unnatural shade of yellow and black hair looks very relevant.
Combinations with Yellow Color Hair
If this is your first time dyeing in such a bright color, it may be worth trying to dye individual strands first.
Yellow also looks beautiful in combinations, ranging from multi-color combinations to rainbow tints.
But getting beautiful iridescent transitions at home is not so easy, it is better to contact a master.
Yellow and Blue Hair
You will definitely love this bold alternative – blue with a transition to yellow ombre hair. This style has a vibrant blue crown that fades to platinum gray before shimmering into sunny yellow hair.
For an outstanding look, use large curlers to curl your hair.
Red Orange Yellow Hair
It is so admirable to watch stylists creatively choose color combinations with yellow.
Red hair with the transition to yellow-orange hair ends looks absolutely delighting. Here, the back of the head is colored orange-red, and most of the hair is dyed deep yellow with orange tints.
This mixture feels natural and puts together significant visual variation as your hair grows back.
Yellow & Black
Black highlighting on yellow is the image of a bold girl who is not afraid to be in the center of attention. And it also takes an experienced colorist to handle it without looking foolish.
The hair remains yellowish blond, while a luscious gray hair dye is applied to highlight the strands near the face and under the crown.
Yellow Bleached Hair
Never try to get a bright or unusual color on your hair without first lightening it. Before bleaching, assess the condition of your curls or consult with a professional about how much hair may be damaged.
Based on the condition of the strands, choose how aggressive oxidizing you need and how many bleaching procedures are required. When the hair is bleached, it's time to fill it with bright pigment.
Neon Yellow Hair
To get a predictable result with a tricky color such as neon yellow, it may be worth contacting a professional colorist.
Even if you are good at dyeing your hair yourself, be careful about choosing a dye, find out about the brand's reputation, and study the reviews.
Having received the desired result after dyeing (hurray!), be sure to choose care that will help protect the pigment and restore hair. And with this, professional care can also help you, but now at home.
Yellow and Green Hair
Nobody forbids combining fantasy colors. This time, neon yellow fades into bold lemon greens for an eye-catching look. Radioactive yellow hair color with a tint of green is definitely bold, fantastic, and bright.
They are not technically complementary hues, but green and yellow have a vibrating effect when we see them together. The combination is sharp. Yellow-green ombre shows how natural roots blend into a bold green before blending in with this vibrant tint.
Curls in the ends of the hair help to accomplish the look.
cool-haircuts.com/hair-color/yellow/