Imagine the year is 2021. Contouring and highlighting have broken the Internet thanks to Kim Kardashian and her makeup artist, Mario Dedivanovic. Though he by no means invented the technique, the makeup artist has been coined the Contour King—much to his chagrin. "I had a tumultuous relationship with contouring. I was a little embarrassed by it," Dedivanovic tells BAZAAR.com. "I didn't want to be known for that. And so I always fought it in a way."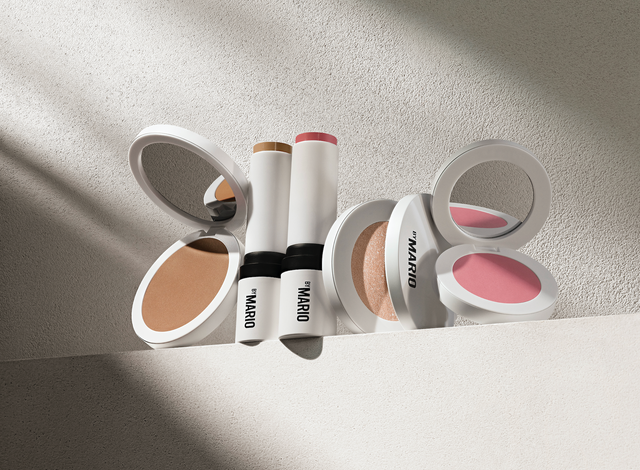 For the next few years, the viral contouring and highlighting videos got more extreme, each one upping the ante and the amount of product required. We were told that if your highlighter isn't visible from the International Space Station, you're not wearing enough. On Instagram, our cheekbones looked amazing. But in real life? Yikes.
Today, Dedivanovic plans on changing that with the latest drop under his Makeup by Mario brand: the Soft Sculpt collection. In it, you'll find the creamy Soft Sculpt Shaping Stick (available in six shades), the Soft Sculpt Bronzer (in six shades), the creamy Soft Pop Blush Stick (in six shades), the Soft Pop Powder Blush (in five shades), the powder-cream SoftGlow Highlighter (in five shades), and three brushes. These products are the antithesis of the 2014–21 makeup aesthetic, and that's by design.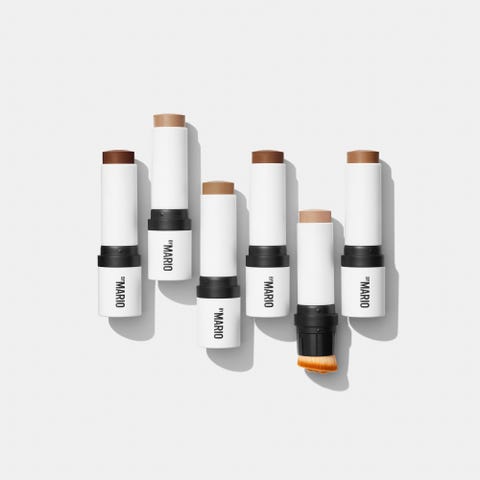 "I wanted the average girl at home to be able to get the look that I'm known for but in a much more approachable, super-easy way," he says. "Rather than it being a look that my clients are known for—which is for national television and all forms of media and lighting, right?—I wanted this collection to be the soft, natural, real-life version of that." Contouring and highlighting are amazing tools of makeup expression, but the application techniques we were collectively taught were not made for anything but an expertly lit television studio or filtered snap. "It's social media versus real life. I think that it's time now that we really start to distinguish one from the other—one is be fake, and one is real," he says.
An educator and teacher by nature, Dedivanovic hopes that the Soft Sculpt collection will inspire all who love makeup—whether you're still into 2014 beauty or have yet to master the art of the chiseled cheekbone. The creamy Shaping Sticks and Soft Pop Blush Sticks are similar in both design and formula: the perfect size to dab onto your cheekbones, each with a sheer but buildable formula that stays put all day (especially if you set them with the corresponding powders). If you want a two-minute, natural makeup look, simply swipe on the contour and blush with your fingers and blend—they're foolproof. If you want something a little more glam, just add more layers and blend with the genius attached brush. "There's no mess, your hands are clean, and you don't need any additional brushes," he says. Each contour shade and undertone was designed to look ultra-natural and flattering in daylight.
As for choosing the right blush shade, Dedivanovic says to not overcomplicate things. "If you're looking at the five or six blush sticks, you're naturally going to be more attracted to one of the shades than another," he says. Pick the shade you love most, then apply it from the apple of your cheek up toward your temple for a fresh, lifted look. Don't be afraid to sweep a little across the bridge of your nose too.
Lastly, the new SoftGlow Highlighter will satisfy even the most discerning highlighter obsessives, with a texture that's like the perfect combination between a cream and a powder for the most realistic-looking sheen.
"What I want to do with this brand is to make it very easy for the consumer, to help them be smarter with their application. and to cut down the time," Dedivanovic admits. Further, the new Makeup by Mario Soft Sculpt collection is makeup designed to perform in a post-quarantine world. "Makeup is fun and inspiring, and all those great things. But it's also a pain in the ass," Dedivanovic says. "You want to get it done quickly. That's what I want this brand and collection to be about."
https://www.harpersbazaar.com/beauty/makeup/a36607034/makeup-by-mario-soft-sculpt-review/