When you're chilling at the beach, you'll need something to throw on when you want to grab an iced coffee, browse seaside shops or head to the car. Lands' End offers almost every kind of swimsuit cover-up imaginable, from warm hoodies to elegant caftans. In fact, you might have a hard time picking just one. But that's just the thing. Spend top dollar on your gorgeous swimsuit. Buy a few extra swimsuit cover-ups and you have a new beach look. Take a look.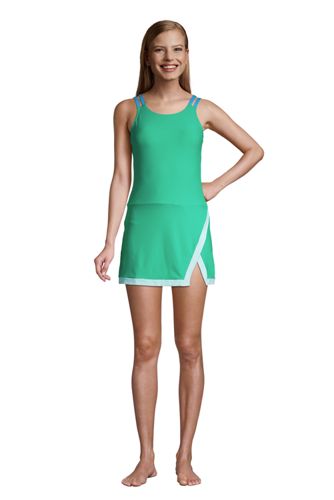 The Classic Dress
For a fun and easy look, throw a swim dress over your suit. Ours offer UPF 50 protection, so they'll keep you safer than sunblock alone. Bonus: you can even get them wet and they won't stop shielding your skin.
Try a T-Shirt
When you're exploring with the kids or relaxing after a swim, try a T-shirt dress cover-up. The soft jersey fabric has a velvety feel and the scoop neckline flatters any face shape. Add a necklace and a matching bag, and no one will guess you're wearing a swimsuit underneath.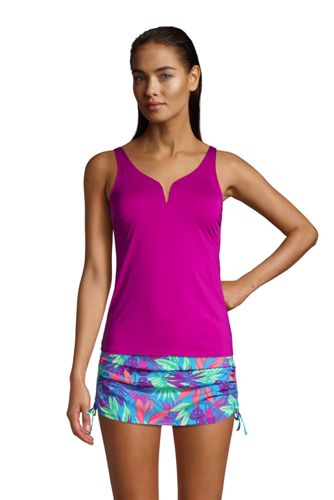 Stylish Sandals
Of course, you'll need some cute sandals, too. Try a pair with a block heel and a delicate ankle strap for extra height. Flip-flops are always handy for strolling around the pool, and cushiony gatas sandals protect your feet when you're exploring the shoreline. Rope-trimmed espadrilles are a timeless classic, and are adorable with retro-inspired swimsuits.
Flowing Fashion
If you're grabbing lunch with a friend, slip into a tunic cover-up. The beautiful colors and embroidery are simply stunning. This bohemian look also takes shape in our flowing caftans, which feature a delicate lace trim.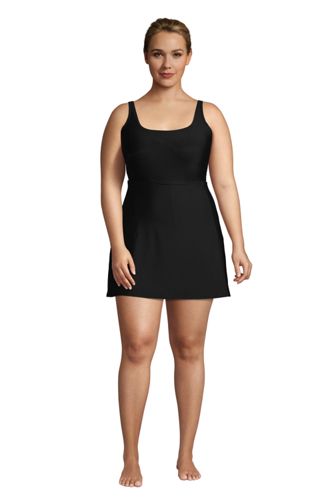 Bring in the Blooms
A shirt dress cover-up in a bright floral print looks smart, too. The crinkled voile fabric is incredibly lightweight, making it perfect for hot, muggy days, and you can roll-up the sleeves and undo the buttons when you need some air. You'll love the finishing details too, including the front pockets and curved hem.
Some Suits Don't Need Cover-Ups to be Boardwalk Chic
Sometimes, you just need something to wear over the bottom of your suit. Try a pair of women's swim shorts when you want to play around or enjoy a little more coverage. A swim skirt or even swim capris made from UPF 50 fabric can do the trick, too.
After sunset, try cuddling up in a swim tee. Great in and out of the water, they're totally cozy and look nice with jeans. You can find them in an assortment of colors and patterns, including vibrant prints and classic stripes. Try a swim tunic with adjustable side ties if you prefer a custom fit.
Your usual summer staples can be worn over one of our bathing suits, too. Grab whatever you love wearing, like chino shorts and a tank top, and put it on. You can also get a sarong and turn it into a wrap dress or even a skirt with a few twists and ties – just do whatever makes you feel good.
https://www.landsend.com/article/how-to-take-your-swimsuit-from-the-beach-to-the-boardwalk-in-a-flash/