If you're having flashbacks to your high school tadpole brows, fear not! Shaping your eyebrows has evolved past the over-plucking of the early aughts. The once-scary DIY beauty project is easier than you think. We've ditched thin and angular for eyebrows that are bolder, freer, and fuller.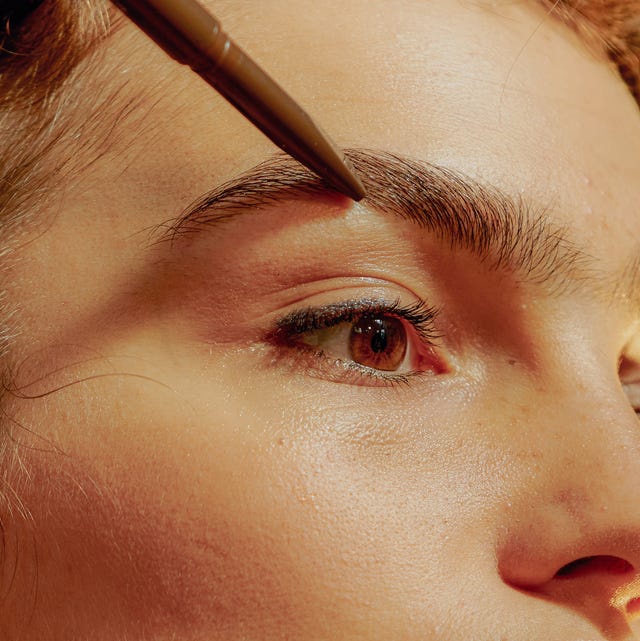 As someone who never really touched her brows as a teen (shoutout to my mom for forbidding me!) I thought mine were in pretty decent shape—until I visited Sania's Brow Bar in New York City to see expert Sania Vucetaj. Vucetaj, who has groomed the iconic eyebrows of celebs like Sarah Jessica Parker and Rihanna, immediately noticed that my brows were not living up to their fullest, fluffiest potential. The culprit? My skincare routine.
"Don't get any creams, lotions, moisturizers, foundation, sunscreen, serums, oils, anything on the brows," she cautions. "That suffocates the follicle. That's why you're getting shedding, and they're falling out. They're getting lighter in color." If your brows are recovering from any thinning or over-plucking, Vucetaj advises the same. "You have to go around your eyebrows [with the product]. It takes six months to a year to grow them back."
Ahead, Vucetaj breaks down how to get your dream eyebrows at home.
Step 1: Assess Your Shape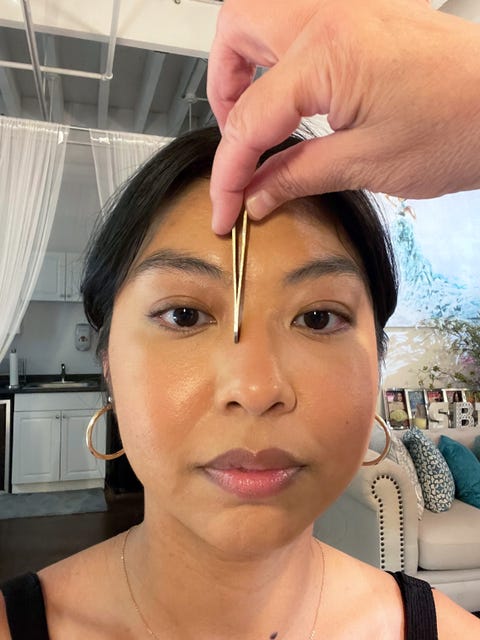 ARIANAYAP
Stick to the natural shape of your eyebrows. Using your tweezers as a guide, hold them up to your eyebrows to measure where to begin. "The top bridge of your nose, you align it with your tweezer," Vucetaj says. "It's not [at the widest part of your nose]. A lot of people think it's there, but it's the top bridge." For the tops of your brows, Vucetag recommends holding the tweezer and angling it the same direction up to the peak.
The easiest way to find your arch? Take one finger and lightly pull up. "With the arches, you just lift slightly the arch," Vucetaj says. "It can help you figure out how much or how little of an arch you want. If you want higher, you know to do that."The Tools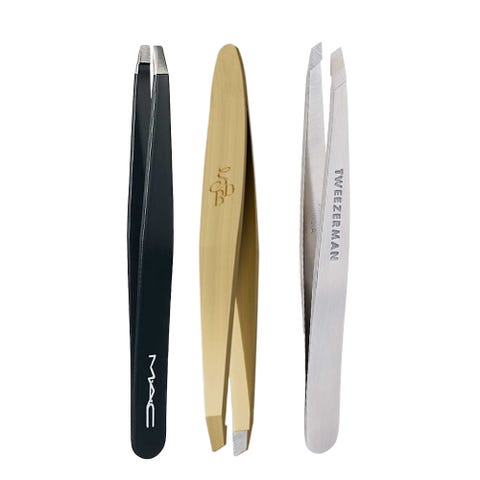 M.A.C, SANIA'S BROW BAR, TWEEZERMAN
For removing stray hairs, tweezing is the way to go. "The whole point of tweezing is that you're pulling by the root and the hairs grow back later over time," Vuetaj explains. "A razor is just an easy fix for a day. Waxing stretches your skin. Threading breaks the hairs, so you get snapped hairs and ingrowns. So there are reasons why I stick to just the tweezing technique. The precision is everything. Every last hair makes a statement."
Step 2: Align and Tweeze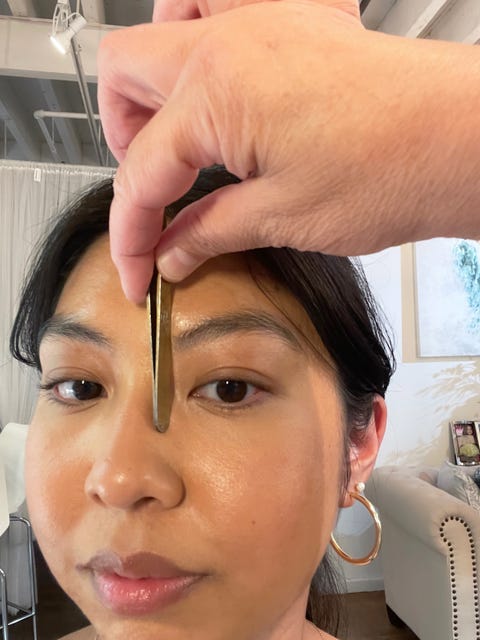 ARIANAYAP
Shaping comes down to a few simple guidelines: your natural brow shape, enhancing what you already have, and never over-doing it. "The rule of thumb is every four to six weeks to tweeze. No more than that," Vucetaj explains. "People are trying to figure out shapes too much, and the best bet is stick close to what you have. Just a cleaner, tidier version of it. Make sure you like the shape, and then tweeze just a few strays outside of the shape. Less is more."
Most importantly: step away from the magnifying mirror! "Get rid of any magnifying mirror, worst thing ever," she adds. "You see too much. It's playing games with you. You're sacrificing the shape for the sake of a few hairs that people normally wouldn't see."
The Tools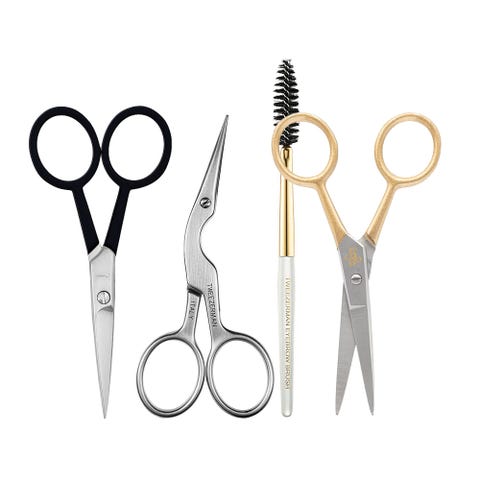 ANASTASIA BEVERLY HILLS, TWEEZERMAN, SANIA'S BROW BAR
Only trim if you need to! Vucetaj barely used her scissors on my brows. "Trimming is last," she says. "You have to be careful to get the right scissors. It's important that the blade is long, because if they're too short, you have to keep stopping and chopping, and that's how you get them uneven. We brush them up very lightly and trim only where needed. You don't trim the arch at all."
Step 3: Fill Your Brows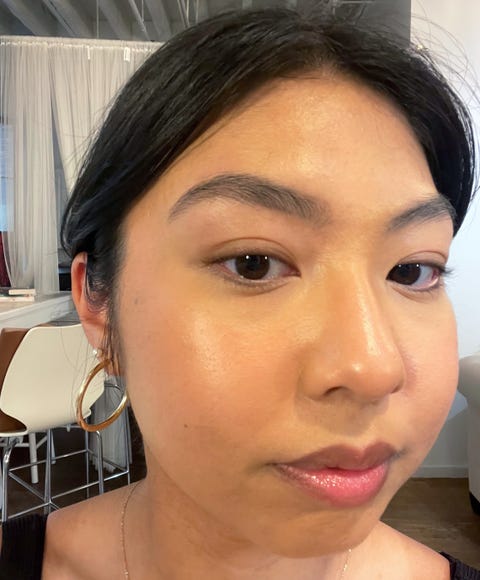 ARIANAYAP
And finally, it's time to fill 'er up! To keep the look natural, avoid a heavy hand when filling in the center of your brows. "Wherever it's more sparse, you just add a little more pressure," Vuectaj says. "Trace the top of the brow and trace the bottom. If you want a little more prominent arch, just add a little more color and brush it through. Lightly fill in the middle. That's how you keep it from looking like a tattoo."The Products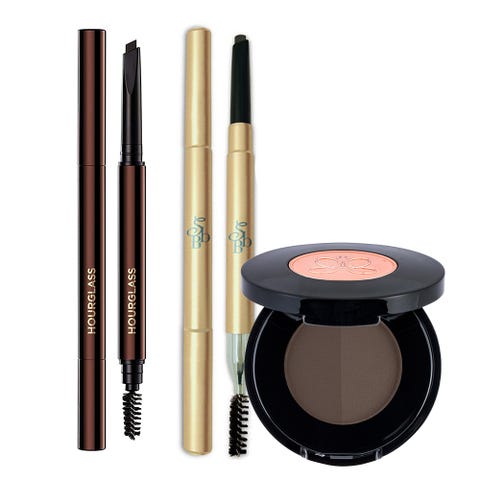 HOURGLASS, SANIA'S BROW BAR, ANASTASIA BEVERLY HILLS
Vucetaj always recommends using a brow pencil or powder for filling in your brows. "Once you find the color that you like, fill your brows to wherever you think they're good. Step back. Maybe take a picture, make sure they look even, and then you can proceed to tweeze just a few hairs and fill with the pencil. That's what I always tell my clients."
https://www.elle.com/beauty/makeup-skin-care/g11/eyebrow-shaping-tips/