Dark red is a calm color that brown-haired women often choose – it is not very different from their previous head of hair. However, it also suits brunettes – especially those with brown eyes and tanned or dark skin. There is plenty of options to choose from: the variety of tones of dark red is very large. The countdown can start with cherry and end with purple tones.
Burgundy Red Hair
Burgundy is the closest to mahogany color, but with a hint of visible red. This shade perfectly decorates a brown-eyed brunette.
Auburn Red Hair
This brownish-red is a very sophisticated, if not flashy tone. It will suit both a girl and an elderly lady. And if you have brown or green eyes and white skin, it will not take your eyes off you at all.
Pomegranate
Red garnet, which is also known as ruby red is a neat hue with dark undertones. It is somewhat close to burgundy.
Ripe Cherry
Cherry red is an individual flashlight that will highlight you from the crowd. This is the lightest shade in the palette.
Copper Red Hair Color
Red copper is a complete beauty, that effectively fits long strands! Ideally, the girl who opts for this tint should be brown-eyed with a light skin tone or a light tan.
Bright Red
If your appearance is an autumn type, try on bright red hair. Bright eyes, such as dark gray, deep blue, hazel, or green, together with delicate skin and copper-red hair look just magical!
Fiery Red
The catchy favorite is, of course, red blonde hair. Not everyone dares to cover their hair from roots to ends with such color – many simply make accents.
Most often, creative personalities apply fiery hair, as well as women who are confident in their attractiveness.
Chestnut Red
Chestnut red has red strings in it that make the hair sparkle on the street. In the room, you are almost a brunette – and under the sun your hair shimmers with liquid amber.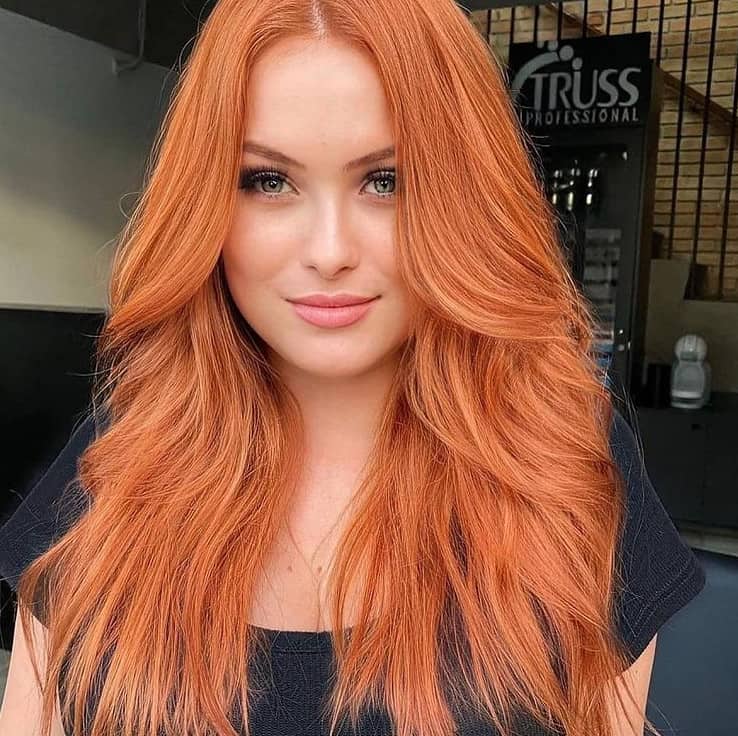 Chocolate Red
Chocolate red is another chameleon that you will love the sun with. Best of all, it will go on the hair of a dark-skinned woman with freckles on her nose and green or rare amber eyes.
By the way, it perfectly hides the traces of past sins of your hairdresser, and first – the uneven coloring of the hair.
Cool Shades of Red Hair
If you have the appearance of a cold color type, your head will be best decorated with deep pink, ruby, and also scarlet cold tones. Also, do not pass by purple – it will be especially win-win for the owner of gray or blue eyes and pale skin.
cool-haircuts.com/hair-color/red/